Free Gold Coast delivery - $12.95 flat rate shipping
Login
Log in if you have an account
Dont have an account? Register
Rewind 20 years... Sharon and Jack had just had their second child Olivia and were on a mission to find a toy shop that offered sustainable, educational and exciting products.  They didn't have much luck and were keen to build a toy shop of their own that was filled with quality toys, books and games.
It always was (and still is) important to us that we have a brick & mortar store. Nevertheless,  Sharon did have a goal to take Hurley Burley online to share the fun with the rest of Australia. However, This was all put on hold when we lost Sharon to breast cancer in 2012.
Fast forward to 2020, we're so excited to finally share our shop with the rest of Australia. It's been a long time coming and we hope our toys bring your family as much fun as they do to ours. 
If you live on the Gold Coast or are stopping by we would love to welcome you into our brick & mortar store. Come in for a play, touch and feel the toys, lose yourself in a book and play a few games with us. We'd love to meet you. 
Thank-you for your support, stopping by and joining the adventure!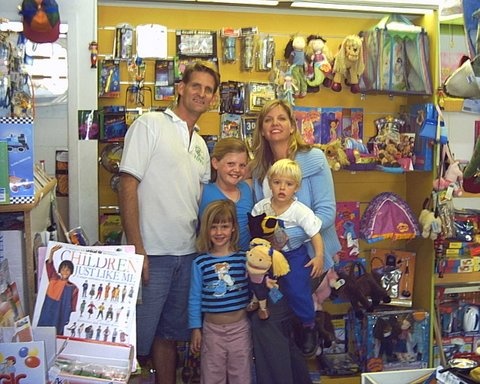 The Van der Meer family in our first shop back in 2002